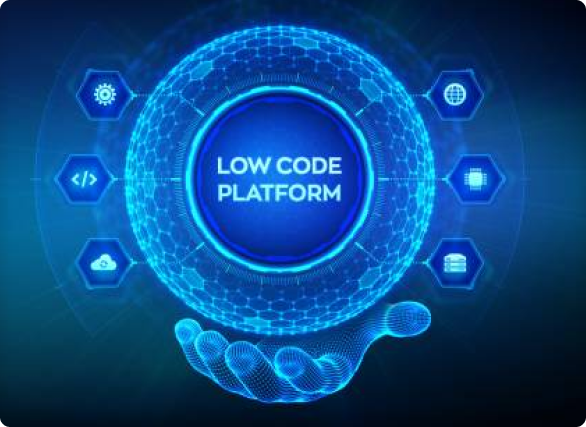 Revealing The Real Difference Between
Low Code And No Code Platform
. April 24, 2023
. Read Time : 8.25 min
As the inevitable result of rapid IT modernisation, businesses are suffering from the lack of developer talent. Due to the shortage of skilled resources, businesses are finding it challenging to deal with the problem of 'pending files' which ultimately drives them to compromise their operational methods. The only answer to this question lies in the implementation of low-code or no-code software development solutions, which can serve the purpose of the best alternatives easily instead of the conventional processes of development. 
A maximum number of organisations are going through extreme pressure at the time of developing or deploying software applications continuously according to the expectations of the users. In comparison to the conventional approaches, such types of low-code and no-code platforms decrease the cost of application development effectively. As a result, most organisations are adopting these technologies. Gartner's recent research is indicating that by the end of 2025, the low-code and no-code technologies will be used to build around 70% of the new apps. Apart from the cost reduction, the enterprises are getting added benefits of lower technical barriers, which drives them to focus more on the digital transformation of daily operations and procedures using low-code and no-code tools. 

Evolution of the low-code/no-code system 
Visual Basics is largely considered the oldest low-code integrated development environment. In the late 1990s and early 2000s, become the witness of inventing the first true low-code application platforms. In the year 1960, another attempt of building low-code platforms was also taken with the help of spreadsheets. It became quite famous for its non-procedural, non-algorithmic approach to computation.  With the help of such a spreadsheet, all businesses can get the advantages of the computation system, without any prior knowledge of programming. 
The evolution of the
low-code or no-code
system is really interesting. Compared to machine languages and toggling switches that are necessary to provide binary instructions into the computer's memory, Assembler can be called as a low code approach. Later C and FORTRAN became more popular and finally came Python which is regarded as low-code in comparison to C++, as developers can trust the runtime environment and libraries of Python which consists of millions of lines of code. 

What is low code?
Low code is a particular technique that involves the use of intuitive graphical tools and embedded functionalities. At the time of designing and developing applications, this method is very much helpful as it rejects the conventional and pro–code–writing requirements. Users are generally offered an augmented and simplified experience which encourages them to start creating quickly. It is one of the most unique approaches which allows a specific automated code generation process with the help of visual building blocks such as drag-and-drop and pull-down menu interfaces. 
Applications that need low code development in order to be built are website and mobile app development, business process management platforms, cross-department tools like appraisal management software, and most importantly all the cloud-based technologies like robotic process automation, machine learning libraries, legacy app modernisation etc. 


What is no code? 
No code is a specific technique of designing and developing applications which can give you the same user experience just like low code. But the speciality of no code lies in empowering non-technical business users to develop applications by rejecting the requirements of writing even a single line of code. Here visual tools play a vital role. 
Applications that should be made with the help of no-code development are dashboards, mobile and web apps, content management platforms, self-service apps for business users, and data pipeline builders. No code is ideal to be used in facility management tools, calendar planning tools, and BI reporting apps. 


When should we use no code and when should we use low code? 
The use oflow-code or no-code entirely depends on the purpose of the user for which they are being used. They have their own strengths and weaknesses. In order to find out which one will be the perfect one for you you must go through their advantages and disadvantages. The similarities between these two alone won't help you to determine your choice. 
To find out the best one, you must consider two points. One is who is going to build this application and what is the application for? The practical way will be to follow a goal-centric approach rather than a user-centric approach. You should choose low-code applications when the use cases are quite complex and you need an integration with other on-premises or cloud apps. It is also ideal for use while you are dealing with complex situations like business-critical requirements or needing to be deployed across the enterprise. In other cases, no code will be the best for use. But you must consider the above-mentioned points before selecting a particular one.

What are the similarities between low code and no code and what are the benefits of using them? 
The primary similarity between no code and low code is that both of them focus more on using visual interfaces and pre-configured templates and rejects the need of knowing any kind of previous coding skills. One can use both platforms very easily and both are available as SaaS solutions. To define the logical progression of data, both platforms use a workflow-based design. As both of them follow a common approach, users can get similar advantages from both of them. 
Each of the solutions is specially designed with the common objective of allowing different kinds of users to build applications with minimal or no coding knowledge at all and both of them are quite effective to decrease the cost by rejecting the necessity of hiring expensive specialists and technologists. Both the low-code or no-code development platforms are suitable for enhancing the speed of development. They largely contribute to faster product rollouts and lower the timeline of the projects by bringing it to days from months. 
Both application platforms make organisations able with in-house customisation which allows them to build more rather than buy more commercial and expensive -off-the-shelf (COTS) products.  
Each of the platforms is very much helpful to collect feedback from customers by exposing easy-to-build prototypes. For this, the developers even don't need to invest significant resources in a project. It largely contributes to the cutting down of costs as well as the possibility of risks. 
If you want to ensure design and code consistency, both the low-code and no-code application platforms will be perfect for you, due to their centralised features. It is very much beneficial for crosscutting modules like logging and auditing. Moreover, at the time of debugging applications,  this feature of uniformity can provide several benefits. Instead of understanding the framework, the developers can dedicate more time to troubleshooting the actual issues. 
For the betterment of businesses, it is essential to nurture a cooperative relationship between the business and the development teams. With a gradual shift towards the low-code or no-code development platforms, an excellent balance between these parties will be created which will ultimately lead to a better understanding. All these things will deeply influence the development process of businesses. 
Shifting tolow-code or no-code development turns down the need for manual development. A large number of companies are suffering from problems like smaller teams, fewer resources, lower infrastructure costs and lower maintenance costs at the time of development. For those businesses that are facing such problems, it will be better to use no-code or low-code application platforms. One can also get a better ROI from them with faster agile releases.

What are the basic differences between low code and no code? 
Low code and no code are the two different development platforms and both are unique on their own terms. But the primary difference between them lies in the basic amount of coding knowledge that needs to be known by the users. No code development platform does not demand any programming knowledge at all while low code development platform only needs some common coding skills that should be in the knowledge of the developers at the time of developing and integrating complex applications. Today most organizations include a large variety of technical skills in their workforce. As a result, almost all the platforms provide both low-code and no-code tools. 
Still, there are many differences between these two platforms which are needed to be considered before delving deep into the process of low code and no code. Here we have listed down some of the basic differences between these popular development platforms. 

No code basically focuses on business users who are quite enriched with domain knowledge and a little bit tech savvy but don't have the capability to write codes manually. If your organisation includes a hybrid team of developers and business users you can use this application 
Low code focuses more on professional developers who want to keep ways from copying basic codes and also to leave space for the critical aspects of development. The entire process of the standard aspects of coding is automated which enables the reselling of the developers.
From the perspective of onboards, low code can be said that low code demands more training and time. It also takes a huge time to develop and deploy, as it includes more opportunities for customisation. But compared to traditional development it is quite faster. 
In comparison to low-code, no-code demands less time for onboarding, development and deployment. One can decrease the testing time also as there is very little chance of errors. It will fully ensure the correct set-up of the configurations and data flow. 
No code is perfect to build all types of front-end apps that can be built within less time with the help of drag-and-drop interfaces. If you want to replace monotonous administrative tasks like Excel-based reports used by business teams, no code will be perfect for you. The internal apps that do not include the burden of extensive functionalities can be handled easily with the assistance of no code. 
On the other hand, low code can be expanded to applications that involve heavyweight business logic. It can also be used to create a collaboration with other apps and external APIs. Low code is always regarded as a better alternative than no code. 
With the use of code, anybody can extend the functionality of the low code as it is an open system. One will get more flexibility and reusability out of it compared to no code. 
On the other hand, no code can be expanded through templated feature sets. It is rather a more closed system in comparison to low code. It only allows some restricted use cases and give access only to boilerplate plugins and integrations. But one may find it easier to ensure backward compatibility due to the zero existence of manually written code that may break future versions of the NCDP.
Shadow IT risk is much higher with no code as it demands almost no intervention from the IT team and it may often lead to security weaknesses. On the other hand, there is still some security control over the low code system which ultimately results in improved security and governance and control. 
Low code provides a user with better extensibility. Attaching custom plugins and custom codes to low-code platforms unlocks the chances of a vast range of implementation and a user can also be allowed to continue work on multiple platforms. 
No code is a little restricted compared to low code in this respect. Restricted potentials are allowed to be connected with the legacy system and users can't smoothly work on multiple platforms due to its limited ability to integrate with other platforms. 


Final words 
If you collaborate with Invimatic, you will get easy access to both the
low-code and no-code
application platforms. With the help of our eminent experts, you will be able to automate the entire process. It will make you free from dependency on the IT teams. You can ensure the digitalisation of your employees to make the entire work process automatic. You can categorise as well as draw out essential information from your business documents conveniently and quickly. Make your business environment more positive to boost its growth.
By

24 April, 2023

Categories: LCNC