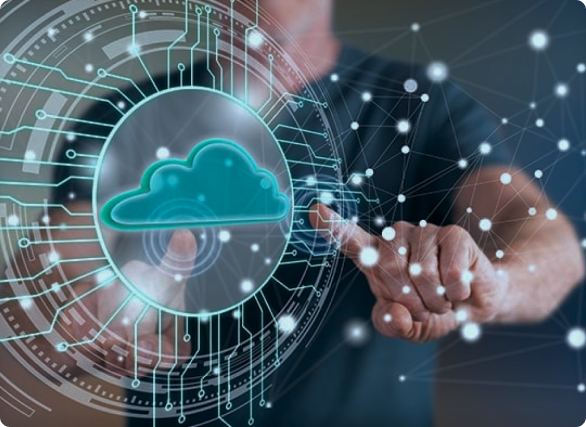 iPaaS - Ultimate Guide to
Integration Platform As a Service
. June 16, 2023
. Read Time : 8.25 min
To meet the current demands of the market and stay ahead of the competition, businesses are continuously integrating third-party applications into their ecosystem. It allows them the flexibility to scale up and down as necessary, and handle data in real-time. Now, connecting all these disparate applications for smooth workflow is a headache for many organisations. The ideal way to handle all this together is iPaaS or an
integration platform as a solution.
With the help of iPaaS, you can manage all the disparate integrated solutions in the ecosystem from a centralised platform. It improves communication with different integrated applications to share real-time data with the organisation.

Table of Content
What is iPaaS
How does iPaaS work?
Why businesses need iPaaS solutions
Capabilities and functions of iPaaS
Benefits and challenges of iPaaS
Common iPaaS Use Cases
How iPaaS differs from other cloud services
Get the best iPaaS solution for your business
Final Takeaway

What is iPaaS
It is a cloud-based platform that allows integration between processes, applications and data- either in the cloud or on-premise. It is also known as cloud integration or cloud-based integration. Basically, it is a tool that allows building and deploying integrations of different software applications in different ecosystems. It provides prebuilt connectors to businesses to manage all their integrations in one place. With the help of
iPaaS solutions
, you can streamline all integrations, whether cloud or on-premise, without managing any middleware or hardware.

How does iPaaS work?
An iPaaS has the infrastructure to build and deploy different applications within the cloud. It hosts several servers, integration tools, infrastructure, and prebuilt connectors that help organisations to create, test, deploy and manage different software applications on the cloud. It speeds up the process of development of the integration flow in the system. In addition, it also has self-service solutions, that allow organisations to scale up integration needs as necessary.
An iPaaS provider is basically a contractor that can lessen the burden of your integrated management system. Especially if you are a large organisation, it can streamline integration flow in the system and increase business outcomes. The same is with iPaaS vendors, also contractors, who provide management and governance of integration flow in an organisation. Some vendors also allow customisation features to businesses to meet their unique requirements.

Why businesses need iPaaS solutions
Nowadays, most businesses use SaaS applications to streamline their business operations- and this number is growing. As various departments of an organisation are adopting third-party applications to streamline their operations, they are creating huge data or data silos. Now to perform any function in the organisation, employees have to switch between several applications, collect data from different applications, and re-enter data to perform a task. Ultimately this becomes too tedious. This is where integration platform solutions come in. An
integration platform as a service
helps the flow of hybrid data from different applications to the system in real time. This helps the organisation to streamline its operations and manage all data flow from a centralised platform.

Capabilities and functions of iPaaS
An iPaaS enables organisations to connect several different processes, applications, and systems through a centralised platform. It allows various software to function together as a whole by allowing the exchange of data flow among them. The capabilities of integration platforms services are:
Integrated platforms allow smooth and quick building and deployment of applications into the existing IT infrastructure.
Integrated platform service provides pre-built data connectors to bring the multiple software applications in the system to work together
Most iPaaS vendors or providers offer customisation options to build custom connectors and add or delete features.
Whether it is SaaS applications or locally hosted applications, integration platforms support all types of applications.
An iPaaS solution can monitor all activities of business workflow, including delays, errors, the performance of all applications, and resource utilisation.
Integrated platforms can manage data silos and perform large-scale data operations while performing other tasks.

Benefits and challenges of iPaaS
It's no doubt that integration as a service is the best data management solution for businesses. It can manage large volumes of data and complex B2C workflow. This includes smooth integration flow in the system, minimal disruption in the workflow, and real-time data updates. Let's explore in detail the benefits of integrated platforms:
Centralised Approach - As organisations are integrating multiple SaaS applications to increase efficiency, managing all of them together is indeed a challenging task. By using iPaaS solutions, you can manage all the integrated tools in the system- whether SaaS or locally hosted applications from a centralised platform. It means you can work on several prospects at the same time, without hoping from one application to another.
Reduce error- The process of manually transferring data from one point to another can make room for mistakes, after all, humans make mistakes right? With iPaaS solutions you can mitigate all possibility of human errors while transferring hybrid data.
Saves resources - Integration as a service platform comes with prebuilt infrastructures and tools that help developers to navigate the need of integration requirements for a business without adding any hardware or middleware. It helps the organisation from the resource drain and additional overhead costs.
Enhances employee and customer satisfaction - Easy access to all the applications and data, helps employees to focus more on an important task that requires human expertise and less on tedious repetitive tasks. Similarly, with an easy workflow, employees can put more focus on customer satisfaction by providing better solutions to their issues. Thus with less tedious tasks at hand, employees can provide a better customer experience.
Enhances security - By managing access controls, iPaaS can safeguard your data. It provides threat detection tools, a pre-built monitoring system that can provide threat alerts, fraud detection and prevention of data breaches. These protection measures safeguard your data with compliance with GDPR, HIPPA and CCPA and others.
Less development time - With pre-built connectors and IT infrastructure, an integration platform as a service allows businesses to be more agile and responsive in their operations. It cuts down on development time, reduces bottlenecks, and saves time for engineers, which they can allocate to more critical tasks that require human expertise.
With benefits, iPaas also comes with its own sets of challenges. So before choosing a solution, you must weigh in the challenges too. Some important challenges that organisations face while implementing integration platforms are:

Most of the iPaaS solutions work best in certain use cases or scenarios, which may or may not work for all businesses. As every business is different from others, the integration requirements are also different. So it becomes very difficult for organisations to choose the right provider that fulfils all their requirements.
IPaaS can indeed manage and govern huge data and facilities transfer of information among them. Still, organisations need a dedicated team of engineers to monitor the functioning of the platform's performance and evaluate its impact on business outcomes.
Although iPaaS provide security solutions to organisations, the ultimate responsibility of security falls on the organisation. The organisation is responsible in case of a data breach, data theft or data loss.

So it is very important to weigh all the advantages and disadvantages of iPaaS platforms before implementing one in your business. In addition, it is also important to determine what kind of solution does your business need.

Common iPaaS use cases
From managing applications and data to integrating different legacy systems and solving complex integration problems, integration platform providers can provide effective scalable solutions to businesses. Here are some common iPaaS use cases:
IT - Build, test, run and manage all your applications from a centralised platform. In addition, you can manage a ticket management system, improve customer support and reduce security issues in the system.
Marketing - Manage all your customer data and marketing campaign data on a single platform. It will help you streamline your sales and marketing operations and enhance conversion rates.
Human Resource - Optimise all the processes of HR operations, including employee onboarding, payroll management, onboarding process, training and administering employees benefits.
IoT integration - Integrating IoT devices with other organisations, and SaaS applications improves data collection, analysis and management for IoT solutions.

How iPaaS differ from other cloud services
To have a better understanding of
integration platform as a service or iPaaS
you must know how it supports and differs from other cloud services.
SaaS - It is a cloud-based software hosted over the internet. The vendors manage, data, server and code to improve the software, eliminating the need for businesses to build software from scratch. iPaaS streamline all hybrid SaaS deployments and integrate the existing legacy system to boost the productivity of the business.
PaaS - It is a cloud-based platform that allows developers to create, run, and deploy applications. But it only provides an environment for developing applications, rather than the entire IT infrastructure. iPaaS combines different PaaS tools to give the facilities of different PaaS tools on a single platform.
ESB - It is an infrastructure that enables you to connect all your applications. It is used generally for integrating existing legacy systems, on-premise systems and internal applications. Unlike iPaaS, it does not work with SaaS solutions or other cloud tools.
API Management- It is a process to manage all the APIs in the system. It facilitates the exchange of data among all the applications in the systems. Many iPaaS vendors provide API management solutions to facilitate interactions between applications.

Get the best iPaaS solution for your business
Choosing the right iPaaS vendor is indeed a challenging task. However, to make things easier for you, we have compiled a list that will help you in your search:
Determine the goals and integration requirements of your business.
Choose which kind of data you want to integrate.
Determine how the data will flow between applications in your system- one-way or two-way synchronisation, real-time updates, or trigger action data push.
Understand the setup, check whether the data was integrated properly, and monitor its impact on business.
To streamline workflow and optimise the operations of your business, look for an iPaaS solution that provides periodic updates and necessary updates for integrations.
Mix more than one iPaaS service to fulfil all the gaps in your integration requirement.

Final Takeaway
Given the growing need for hybrid infrastructure in the market, iPaaS is one of the most viable solutions to unify all the applications and data in an organisation. Even Gartner's report points out that integration platform service is the solution to tackle all kinds of integrations. So to stay relevant, it is important to invest in integration strategies that provide both on-premise and off-premise services.
Here at Invimatic, we build iPaaS services that fulfil the needs of every organisation. Our solutions provide management of all data, applications and APIs; build workflow automation to streamline business processes from end to end. We relieve our clients from the manual repetitive tasks and maintenance of legacy systems by helping them set up a flexible ecosystem in the cloud.
The main advantage of our iPaaS or
integration platform as a service
is that it focuses on integrations and workflow automation. With the present outlook of workflow, our affordable iPaaS services can increase operational outcomes and generate greater revenue for your business. Contact us and know how Invimatic can address all your integration and business needs.
1. What type of businesses need iPaaS solutions?
An iPaaS solution allows the organisation to integrate different off and on-premise applications to enable hybrid data flows, sync data, enhance operational workflows, and increase outcomes. With the help of iPaaS any organisation, regardless of the industry, can get the flexibility to increase operational outcomes.

2. Does iPaaS services require investment in on-premises hardware?
The answer is No. The main advantage of using an iPaaS solution is there is no need to install on-premise hardware. As it is a cloud solution, therefore there is no need to buy software or hardware. In addition, you don't need to pay for any maintenance or upgrade either.

3. What are the benefits of using an iPaaS solution for my business?
An integration platform as a service or iPaaS streamline the process of joining disparate applications, legacy systems and web services of an organisation. It gives organisations the flexibility to accelerate data flow in the system. Here at Invimatic, we provide low-code iPaaS solutions to reduce the need for coding, quick integration of applications and facilitate hybrid data flow in the system.

By Invimatic Editorial team

16 June, 2023

Categories: ipaas