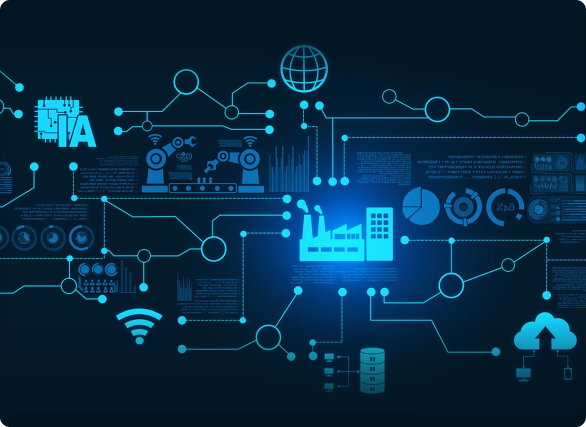 Streamline your business with workflow automation software
. May 11, 2023
. Read Time : 8.25 min
Agile methodologies and responsiveness have become the need of the present time. So businesses are looking for digital solutions to reduce processing time and increase efficiency and productivity. Regardless of your business size, customers expect top-notch quality results within a short span of time. Thus workflow automation software has become an effective solution for businesses worldwide. From startups to established corporations, everyone is using workflow automation tools to stay ahead of the competition in the market. With the help of automation software, you can optimise all the operations of your business.

 If you are looking for ways to increase the efficiency and productivity of your business, then automation is the only answer. It might feel daunting at first. But with the right software, you can automate your business workflow seamlessly. In this article, we have listed the best software that can seamlessly automate your business workflow. But before we dive into that, let us understand what is workflow automation, and how it can benefit your business. Let's get started. 


What is workflow automation?
Workflow automation is a process of using technology to streamline all the activities of a business's operations. Now the first question that might have popped into your head is do your business need it? Is automation of business workflow essential? The answer is Yes! By automating the day-to-day repetitive activities, companies can increase efficiency, accuracy and reduce overhead costs. It helps businesses to deliver faster services to customers. Automation of workflow involves using technology to automatically perform the day-to-day manual tasks like data entry, approvals, progress tracking and notifications without any human intervention. 

It allows the business to streamline its manual activities like sending emails, creating reminders, updating tasks, creating notifications and many more. Thus it increases transparency, competence and accuracy, and reduces human mistakes. By automating repetitive manual tasks, businesses can focus on essential tasks that need human expertise.
  Workflow automation companies provide unparalleled tools that can give your business countless benefits. Many reports suggest that most businesses are adopting workflow automation tools to simplify their business operations. Consequently, it helps businesses to become more agile and responsive to the changing market trends. The Workflow Index 2021 states that more than 45% of businesses worldwide created an automated workflow to run their business. 


Benefits of automating your business workflow
By automating workflow businesses can reap many benefits, including an increase in transparency, employee engagement, customer service, profitability and reduce overhead costs. Let us understand in detail the main benefits of workflow automation.

1. Improve efficiency -
By automating business workflow, businesses can streamline their activities and reduce downtime
errors, which helps to increase efficiency and productivity. By automating daily manual repetitive tasks, businesses can focus on crucial tasks that require human expertise.

2. Increase precision -
By implementing workflow automation, businesses can reduce human mistakes. By automating tasks that are iterative and prone to human mistakes, businesses can improve the accuracy of day-to-day operations.

3. Saves time and money -
Businesses can reduce overhead costs by automating day-to-day activities. Thus it saves time and resources for the organisation.

4. Improves business operations -
With the help of automated tools businesses can streamline customer service without increasing
headcount. The AI chatbot is a workflow automation software that helps customers with queries by simulating human conversation.


Top 10 workflow automation companies that can streamline your business
1. Invimatic Technologies -
Invimatic offers both on and off-premise custom-made workflow automation tools to users. They design
custom-made automation tools to meet the unique needs of different businesses. Invimatic can integrate with your existing CRM, ERP and other systems seamlessly. Its tool ensures data flow among web applications, reducing manual labour and human error. In addition, users can have more control over the functionality of the software and customise features according to their needs.
Customisation options, greater control and flexibility.

2. ClickUp -
ClickUp is an off-premise project management automation tool. From workflow management to team collaboration to project management, ClickUp provides an all-in-one solution to users. With robust collaboration features, it allows businesses to communicate, manage projects, share files, set deadlines, time tracking, and provide feedback within the same platform. Simply put, ClickUp can take care of all your business workflow with a single software.
average pricing, and workflow tools.

3. Monday.com -
It is a work management and team collaboration automation tool that offers a range of automation services to increase the productivity of businesses. It helps to cut down on iterative tasks and puts more focus on higher-value activities. They provide users with both automation templates and automation builders. Monday.com can integrate with more than 40 third-party systems. With features like push notifications and
collaboration, it allows users to stay connected and manage their workflow with ease.
Customisable automation builder, collaboration, and user-friendly interface.

4. Wrike -
Wrike is another cloud-based work management automation software that offers advanced management features to streamline workflow activities. The automation tool of Wrike allows users to create custom
request forms, templates and workflows. It helps to improve the productivity of businesses by streamlining their workflow and automating daily routine tasks.
Customisable workflow, request forms, Integration, and interactive dashboard.

5. Kissflow -
Kissflow is one of the leading workflow automation software that provides no-code or low-code options to app builders and process automation. It allows users the flexibility to use it as a project management tool, workflow management tool or automated marketing software. With a simple interface and analytics, kIssflow can improve processes and remove bottlenecks in the workflow.
Simple interface, free trial, and customisable workflow.

6. Flokzu -
Flokzu is a business process management software that allows users to customise forms, automate
processes, manage reports and so on. With Zapier Flokzu can integrate with leading third-party software. In addition, Flokzu comes with tools that make it more flexible than other workflow automation tools.
 Free trial, powerful analytics, and ability to substitute members.

7. Height -
Height is a flexible project management tool. It enables users to no code automation to streamline iterative and time-consuming tasks. Although it is still in the beta stage, the automation tool enables robust multi- level workflow for businesses. It allows users to create complex workflows as they desire.
Customisable workflow, and real-time chat.

8. DocuWare -
DocuWare is a workflow automation tool that streamlines the storage and management process of business. With tools like drop and drag options, real-time collaborations and safe access controls, DocuWare helps businesses to increase their efficiency. It can automate all paper processing tasks and reduce human error.
efficiency, scalability, enhance security, and integration with various third-party software.

9. Zapier -
Zapier is one of the most popular workflow automation companies that provide tools that connect different web applications and automate all the tasks, making it easier for businesses to connect all their daily activities. From simple recurring tasks to complex workflow, Zapier can easily automate all tasks. Zapier offers integrations with more than 5000 applications. From Trello to Salesforce to Asana to Gmail to  Slack, it can integrate with any software to automate your workflow. Its platform is easy to use, making it accessible to all users.
Integrates with over 5000 applications, offers a free plan for single-step automation, and offers a 14-day free trial.

10. Height -
Hive is perfect for businesses that are new to automation. It is a project management tool that allows businesses to create and manage workflows. Automation builder in Hive is known as recipes and it is developed through actions and triggers. The recipe is a drag-and-drop interface that allows users to customise or import information from external sources.
 customisable dashboard, simple interface, and agile methodologies.


Choose the best workflow automation for your business
This list summarises the basic details of our top-pick workflow automation tools for businesses. However, when it comes to choosing the best
workflow automation software
for your business, it depends on your business needs. First, identify the tasks that need to be automated and what features you require for your business. For instance, if you want to build a customised automated tool, you can try Invimatic. If you want to automate all tasks across different applications then use Zapier. For project management and process management, you can use ClickUp. By leveraging the right automation workflow tools, you can streamline your repetitive tasks, reduce human error and increase efficiency. Hopefully, this article will surely help to find the right automation tool for your business. 
By Invimatic Editorial team

11 May, 2023

Categories: Automation Software