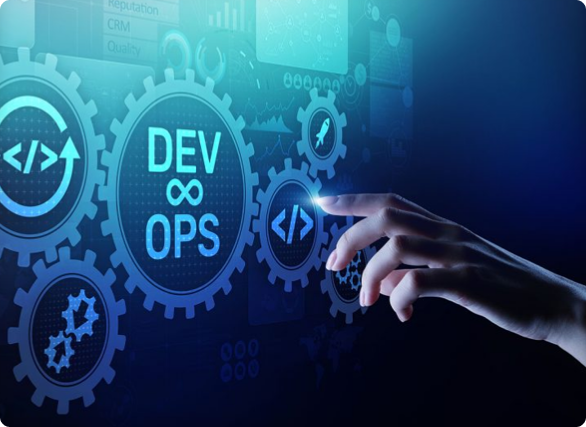 Everything you need to know about hiring a DevOps consultant for your business
. April 28, 2023
. Read Time : 8.25 min
Nowadays, businesses in America are looking for ways to become more proactive to market changes, including, facing stiff competition and dealing with demanding customer choices. Due to this challenging market scenario, IT developers are turning to scrum and agile approaches for their growth. DevOps as a service is one of the agile transformative initiatives that most businesses are adopting to deliver better outcomes without any friction.

With the help of a DevOps consulting firm in the USA, organisations now can take advantage of DevOps operations while ensuring that they can meet all their business objectives. To put it simply, DevOps companies offer a wide range of services that can help to quickly market your product and offers greater flexibility and better collaboration between disparate systems.
DevOps is an acronym that stands for development and operation. This is a framework that depicts a loop in which one can build, test, run, deploy, monitor, operates and then goes back to the start. Basically, DevOps is a platform that refines the process of development and operations departments of an organisation. It controls the end-to-end development lifecycle process and delivers faster release of new software or updates. The idea of DevOps originated from the need to sustain business agility, with respect to IT operations.


What is DaaS or DevOps as a Service?
DevOps as a service or DaaS are DevOps services that are provided by the top DevOps consulting companies. DaaS is basically a service tool that allows collaboration between the development team and the operation team of an organisation. In general terms, it is a delivery model that connects disparate tools of an organisation to work together as a unit. In contrast to house best-of-breed toolchain solutions, DevOps uses discrete tools.

The goal of DevOps as a service or DaaS is to track every action carried out in the software development and delivery process. It takes the entire responsibility starting from initial planning for building software to code, running, testing and on to deployment, monitoring and operations. This relationship of continuous loop propels further improvement, testing, building and deployment. Thus DaaS system also ensures businesses follow strategies like continuous Delivery( CD) and Continuous Integration( CI) to enhance the development lifecycle process. If a problem arises in any phase of the development life cycle process, DaaS provides quick feedback to developers. As a result, it allows continuous delivery of software or necessary feature change without any delay.

The DevOps consulting companies in the USA offer comprehensive guidance on automating the software development and delivery process. It allows better collaboration between teams to speed up the time to release new applications and enhance existing applications. They provide assistance and expertise to help businesses to enhance their workflow. To get the desired results, they identify the areas of growth, simplify operations and optimise workflow.

Why do you need to hire a DevOps consultant for your business?
Along with its efforts to join two disparate systems i.e. development and IT operations, the core need of DevOps or DaaS is to increase customer satisfaction and quicker delivery of value. So that's why organisations are opting for the best DevOps consultants in the USA to increase their bottom line. Also, with their help you can propel innovation and continuous improvement of your product.
The methodologies of DevOps encourage quicker and more secure delivery of business value to the end customers. These values can be new updates or features or even new product releases. It can involve quick delivery of a new release or quickly resolving a bug and re-releasing it. Overall the DevOps consultants provide the underlying infrastructure that provides DevOps services to streamline software creation procedures by allowing an organisation to quickly market their product.


Benefits of hiring a top DevOps company in the USA
1. Experts in DevOps- The top DevOps consulting agencies in the USA are highly skilled in DevOps as a service or DaaS services and they can offer businesses the proper expertise to achieve their targets. These firms are fully equipped to assist in the entire end-to-end software development life cycle process. From initial assessment and planning to building and testing to running and on to support and maintenance.

2. Less time to market a product, feature or update- The main obvious advantage of hiring a DevOps company is to minimize the time to market a product. A DevOps consultancy can help you in faster delivery of products to the end customers by implementing DevOps tools. They can optimise software development and deployment operations, enabling businesses to bring out new products or services in the market quickly.

3. Streamlines your business workflow- DevOps companies can streamline your software development life cycle process by reducing time and resources to market a new product or update with the best workflow automation software. By identifying the areas of improvement, DevOps companies can help businesses quickly remove bottlenecks and enable faster turnaround times. In addition to this, they also offer comprehensive guidance for implementing DevOps tools, allowing businesses to achieve greater agility, better efficiency and reduced overhead costs.

4. Minimise downtime- One thing that hinders business processes is downtime errors. A DevOps consultant can help in minimising downtime as they are experts when it comes to planning, developing, maintaining and supporting the ecosystem needed for running the system smoothly. They understand the importance of preventing downtime errors and suggest ways to enhance agility, reliability, scalability and security in your organisation.

5. Improve collaboration and communication- Both communication and collaboration are crucial for businesses to survive in this cut-throat market. Hiring one of the best DevOps workflow automation companies to oversee your DevOps operations will help you to move forward. With their expertise, you can communicate and collaborate with all the disparate systems to ensure that the projects are running on track without any delay. Not only do they streamline the development and deployment process, but also deliver a better end product by implementing the best DevOps practices via automation.

6. Improve security- By engaging with a DevOps consultant, you can increase security and streamline business processes. By implementing software coding, and automation testing, a DevOps consultant can quickly identify potential errors and threats and provide feedback to developers- which will save your time and resource. When you are operating IT infrastructures with the help of experts, it reduces the development lifecycle process and ensures faster release. This leads to higher ROI. The best DevOps companies are experts in compliance guidelines and risk management that ensure your system remains secure and compliant with industry standards.

7. Reduce cost and increase ROI- By working with DevOps as a service consultant, you will be able to save a lot more due to the proper utilisation of resources. They can help you cut down on development costs by providing a prebuilt infrastructure for the software development process. Moreover, the consultants can identify the applications that can be moved to the cloud to get higher returns. Overall investing in DevOps companies can be beneficial for you to save cost and resources while improving efficiency.

8. Improves user experience- These days customer demands quicker service, regardless of your business size. A DevOps consultant allows you to reduce the minimum time to deliver products or services to your end customers by almost ten times. By automating the development process, a product's efficiency and consistency are guaranteed in every release. Better and quicker customer service will lead to the production of happy customers. This translates to better customer loyalty and higher profit for your business.


How a DevOps consultant can help you to adopt the best DevOps practices?
The leading DevOps organisations are experts when it comes to implementing DevOps tools and practices. Given below are some ways how a DevOps company can help you: They are
1. Assessment- A DevOps consultant is an expert in using DevOps tools and practices. They can assess the development lifecycle process and identify the areas for improvement and provide a baseline to track the progress of your business. With their help, you can implement a holistic software development process.

2. Strategy - DevOps companies in the USA can help you to develop DevOps strategies that are best suited for your business needs. The strategies may include tools, practices, and team structures to meet your goals.

3. Implementation- Oftentimes many unwanted issues arise in the software ops process like increased error, delayed software distribution, stubborn release procedures and others. These problems can delay the delivery of the release. Working with the best DevOps consultant companies can help you properly to utilise tools like continuous Integration( CI), continuous deployment( CD), and infrastructure as a code(IaC) automation testing to avoid any issues in the software ops process.

4. Optimisation- Optimising DevOps operations is the best way to reap the benefits of automation which you might not be able to do by yourself. So a DevOps as a service company can analyse your processes and identifies the areas for improvements and suggest ways to optimise your DevOps tools to achieve your business goals.


How to identify the right DevOps company for your business
In order the get the best out of DevOps practices, you need to hire a consultant that has the expertise to help you to achieve your goals. Here are some steps to help you to identify the right DevOps consultant for your business.

1. Cloud Platforms- Many businesses are opting for the best cloud companies like Microsoft Azure, Amazon AWS and Google Cloud to get better IT infrastructure. So look for the best cloud DevOps companies in the USA that can offer cloud-based tools for software ops processes.

2. Assesses their expertise- When you are looking for a DevOps consultant, the first thing you should consider is technical expertise. After all, their expertise will help in your DevOps transformation. Make sure they have extensive proven knowledge of the industry and understand the best methodology of DevOps practises.

3. Best SSO solution- Easy access management solutions can help to get access to all the systems in the organisation. This way you can implement holistic DevOps practices to enable smooth continual delivery of software releases without any delay. So look for a firm that provides cloud-based best SSO access management solutions.

4. Collaboration- DevOps practices rely on communication and collaboration. So it is important to know if the firm that you want to hire can foster better communication and collaboration with your team or not. Don't hesitate to look up and check whether they are proficient in DevOps methodologies or not.

5. Project Management- These days project management has become the need of every business. So look for DevOps consultants that have knowledge and experience in project management, like managing timelines, creating plans, and communicating with the stakeholders. Consultants having CRM web application DevOps solutions can help you to execute your DevOps practices efficiently.

6. Understand your need- There are many types of DevOps companies in the market. You have to understand which is best for you according to your needs. Additionally, it is important to understand the business models of DevOps firms and their services. Then depending on your needs, you can choose the agency- like do you need DevOps strategy implementation or just advice? Do you need ongoing operational support throughout the operational procedures or not?


Wrapping Up
A DaaS or DevOps as a service can really transform your DevOps operations wholly. With Invimatic Technology, you can certainly deliver faster services and optimise the developer's productivity both on-premise and off-premise simultaneously. Our solutions can help developers to create in a reliable and controlled environment with less friction. With our services, you can not only streamline the development process but also makes it easier for the operations team and QA teams. Contact us to know more about how Invimatic can streamline your DevOps practices.

By Invimatic Editorial team

28 April, 2023

Categories: DevOps companies